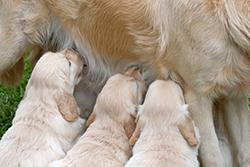 Looking to improve conception rates in your breeding program, whether it be small animals or large animals?
We can perform vaginal cytology on female dogs to calculate the stage of estrus. This method involves taking a swab of the vaginal cells and analyzing them under a microscope. Usually more than one swab is required. Another method we can use is to perform a simple blood test to determine the luteinizing hormone (LH) surge and pinpoint the dog's fertile period.
Additional tests, including a thyroid analysis, should be performed on your dog before estrus. These tests can rule out any potential problems or alert you to issues that need to be addressed before breeding.
To confirm pregnancy in canine and feline patients, we recommend an ultrasound at about 50 days pregnant to allow you to prepare for an approximate number of neonates to expect.
For large animals such as cattle and horses we can perform ultrasound pregnancy diagnosis. We can also assist you in synchronizing your breeding program.
Please call and set up an appointment with one of our veterinarians to discuss how we can further assist you with your breeding program.